Academic writing companies have been there to help us for decades. And for all these years, diligent students have asked themselves a question: are paper writing services legal? Let's find out how the myth of academic assistance's illegality first appeared, what we should do to avoid being accused of cheating, and how to get the maximum benefits of using professional writing companies in your studies.
Is it illegal to write papers for students?
Business-writing and ghostwriting companies are widespread and are perceived as online services that assist you in your career. The situation is the same with online training and academic assistance websites which make your studies easier. They provide you with additional information that is professionally put together. With that being said, many educational institutions still state that essay mills are a tool for cheating and that by using them, students are involved in plagiarism because they might use the papers written for them by an academic writing company as their own without giving credit to the online service they used. However, the crucial word in this supposition is "might."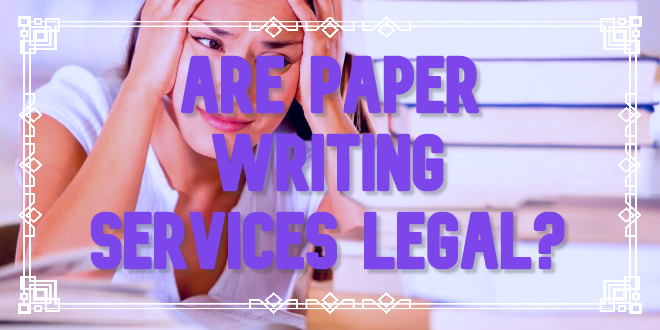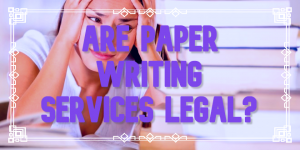 To order custom papers completed by a professional in academic writing doesn't necessarily mean to cheat, as students can use the personalized assignments someone has done for them in multiple ways. It is the student's choice whether to stay diligent or to cheat. It is also worth saying that most of the reliable writing services that help students explain how the pieces of writing they provide should be used in their terms and conditions sections. Moreover, they have a disclaimer on their websites that legitimizes their activities.
How do I use writing services without being accused of cheating?
When you are lacking original ideas for your essay, the only thing that can help you with writer's block is a good sample you can use as a source of inspiration, and this is the main purpose for which custom assignments should be utilized. Take a look at some other methods to apply writing services and maintain your status as a decent scholar who never breaks the academic integrity principles:
Use the custom paper as an example
Academic experts are skilled in structuring and writing any kind of assignment. They understand the differences between essays and research papers and will share this knowledge with you by simply providing you with a high-quality sample. If you don't understand what your instructor requires from you and there is no one to ask, writing services are here to help, ready to explain your teacher's instructions to you in clear and comprehensible terms.
Learn from your expert's style and vocabulary
If you're new to academic writing, you will benefit dramatically from reading good papers composed by professionals. To write fast, academic experts apply a specific structure that always works (introduction, body, and conclusion), phrases which help them to create a logical flow in their writing, and typical vocabulary. Learn the way essay specialists use hedging language and link phrases and start adopting them to improve your own writing skills.
Have an example of correct formatting in front of you
The easiest way to follow the rules of a particular formatting style is by comparing your bibliography and in-text citations to a well-composed example. The best way to do so is by having such an example in front of you.
Check out the references
As a rule, reliable writing services provide you with a bibliography page free of charge. Learn this section thoroughly to improve your knowledge of the topic.
What guarantees and options should an essay mill provide to be a legit academic assistant?
When you opt for engaging an essay mill, the first thing you should check are the guarantees the company offers.
Originality
Make sure that the website provides original papers and states that it composes essays from scratch and according to your instructions. It is also highly appreciated if the company gives a plagiarism-free guarantee.
Confidentiality
Another important aspect of ordering from a writing service is confidentiality. The thing is, some educational institutions believe that the only way you can use pre-written essays is by turning them in as your own. If there is no trust between you and your teacher, it will be a challenge to prove that you used a custom essay exclusively as a sample for your own writing. This is why it's better to make sure that your online helper will store your personal information safely.
Editing and refunds
If a writer hasn't completed your order according to the requirements you set, you must have the possibility of having your essay revised. If your paper is a failure and no editing will help, a reliable and legitimate writing service should provide you with a money-back guarantee.
Additional options
Check out whether the website you've chosen has some additional options aside from essay writing. For example, if you can ask your writer to explain your paper to you for an additional fee, you will be receiving coherent assistance on your discipline, which can be equated to online tutoring.
Some writing services offer their clients copies of the sources they have used for writing papers. This transforms the assignment you've ordered into a kind of manual on your topic.
Some additional types of writing the website offers its clients, along with essays, will also make an academic assistance company more legit. For example, if you can order your English 101 essay from the website as well as a business plan, a blog post, a resume, or a poem, there is a higher chance that you're dealing with a legitimate service.
Support team
A support team always ready to deal with your insecurities about the service is a sign that the website cares about its clients. Avoid companies that you cannot contact or ask for help.
Writing services make college life easier and work on your own papers much faster. However, to avoid accusations of cheating, you have to use them the right way. Learn from the papers you order and opt for additional services that might help you understand your topic or discipline better, and don't turn in papers you've bought as they were delivered to you as your own writing.