99papers.com is a writing service that has been on the market for more than 10 years. It has quite a good rating on the independent reviews platforms and seems to be a reliable company. We have tried it out by ordering three papers of various academic levels from it and by annoying its support managers. All this was done to figure out how good it is in helping students with their easy, urgent, and complex papers. Let's find out more about the 99papers' quality, guarantees, benefits, marketing tricks, risks, and prices.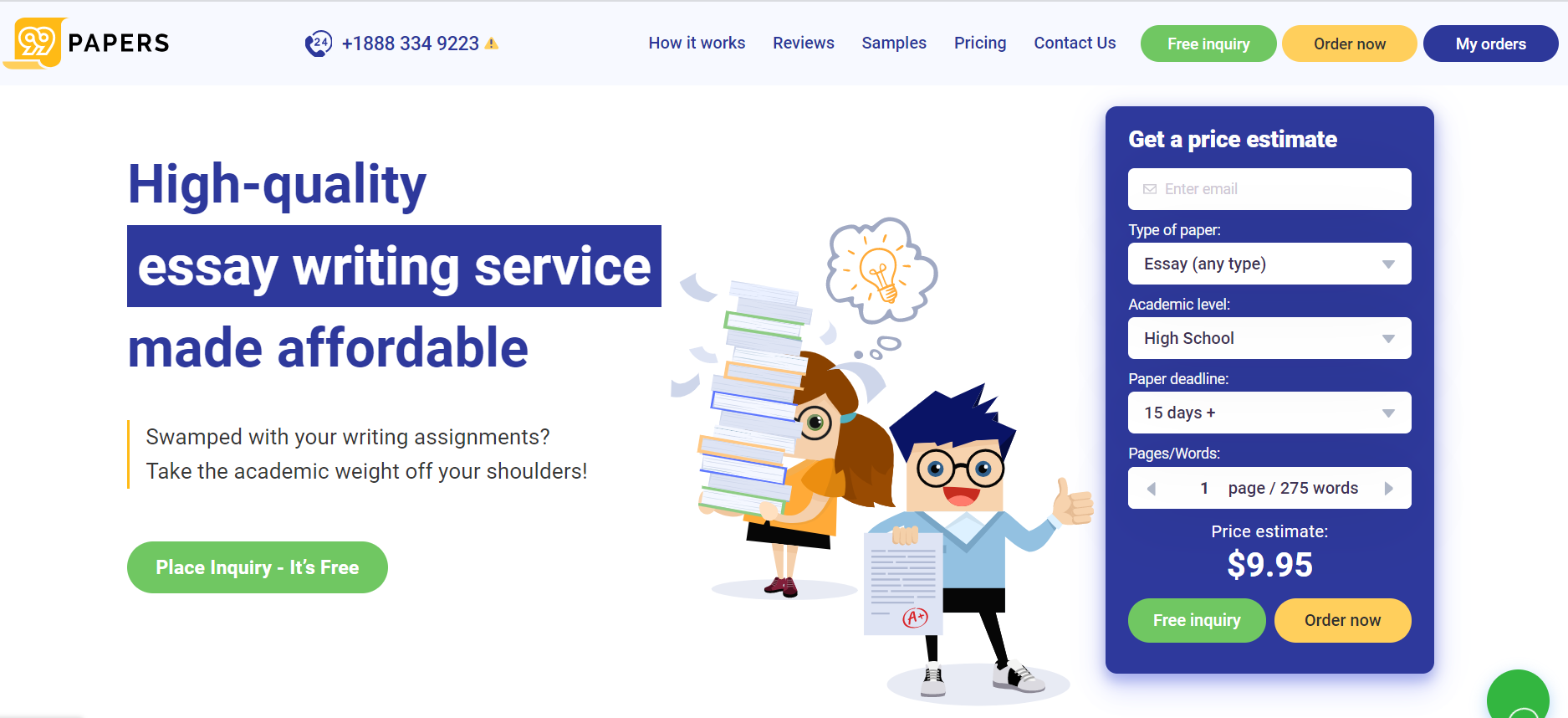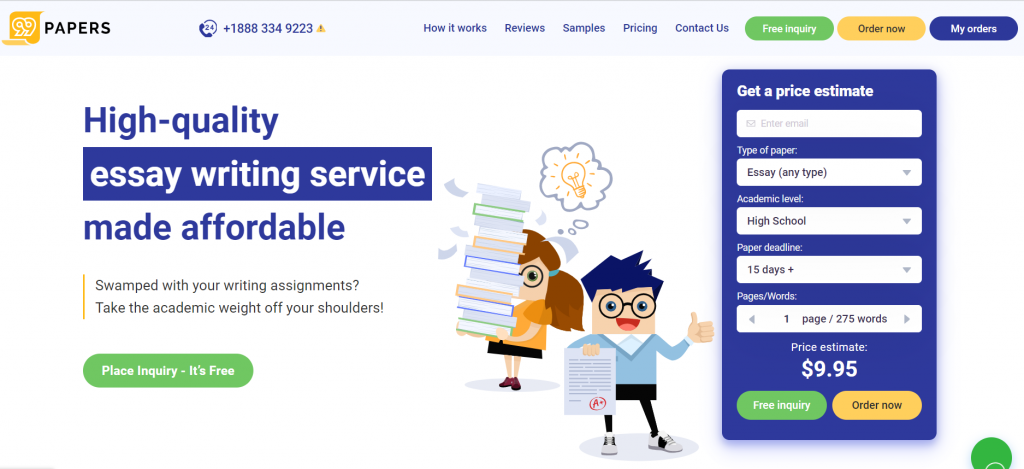 99papers: Quality of papers and support team
Trustpilot users rate 99papers at 4.6/5 which is rather high. To see if the service is truly legit, we ordered three different papers. By doing so, we wanted to figure out how good it is with simple ordinary tasks, complex assignments of the graduation level, and common but extremely urgent tasks. See what happened:
History essay
We wanted 99papers to show their best with this paper, so we've set the largest deadline which is 15 days. We refrained from all additional options and have paid $25.20 for the 2-page piece which is an average price on the market. What we liked the most about this order was that the paper was had been delivered much earlier than the due date, in six days instead of two weeks. The quality of writing was quite high: we haven't noticed any grammatical mistakes and the topic was fully covered. All our instructions were followed and we believe this is a straight 5/5.
Chemistry lab report
Four pages of a college lab report on chemistry cost us $56.70. The paper was delivered two hours before the 7-day deadline and this has lead to some problems. The thing is, not all of our instructions were met and we had to apply for a revision. It was free of charge, no problems there, but the writer asked us to set another deadline for the amendments he had to make. As the result, the final version of the lab report that we would call good was delivered a day after our initial deadline. The support team told us that it's always better to set a shorter deadline in case there will be a need for revisions. Doesn't that sound a bit manipulative to you: "Set a shorter deadline and pay us more money in case we spoil your paper and you will need a revision…" 4/5 for this paper.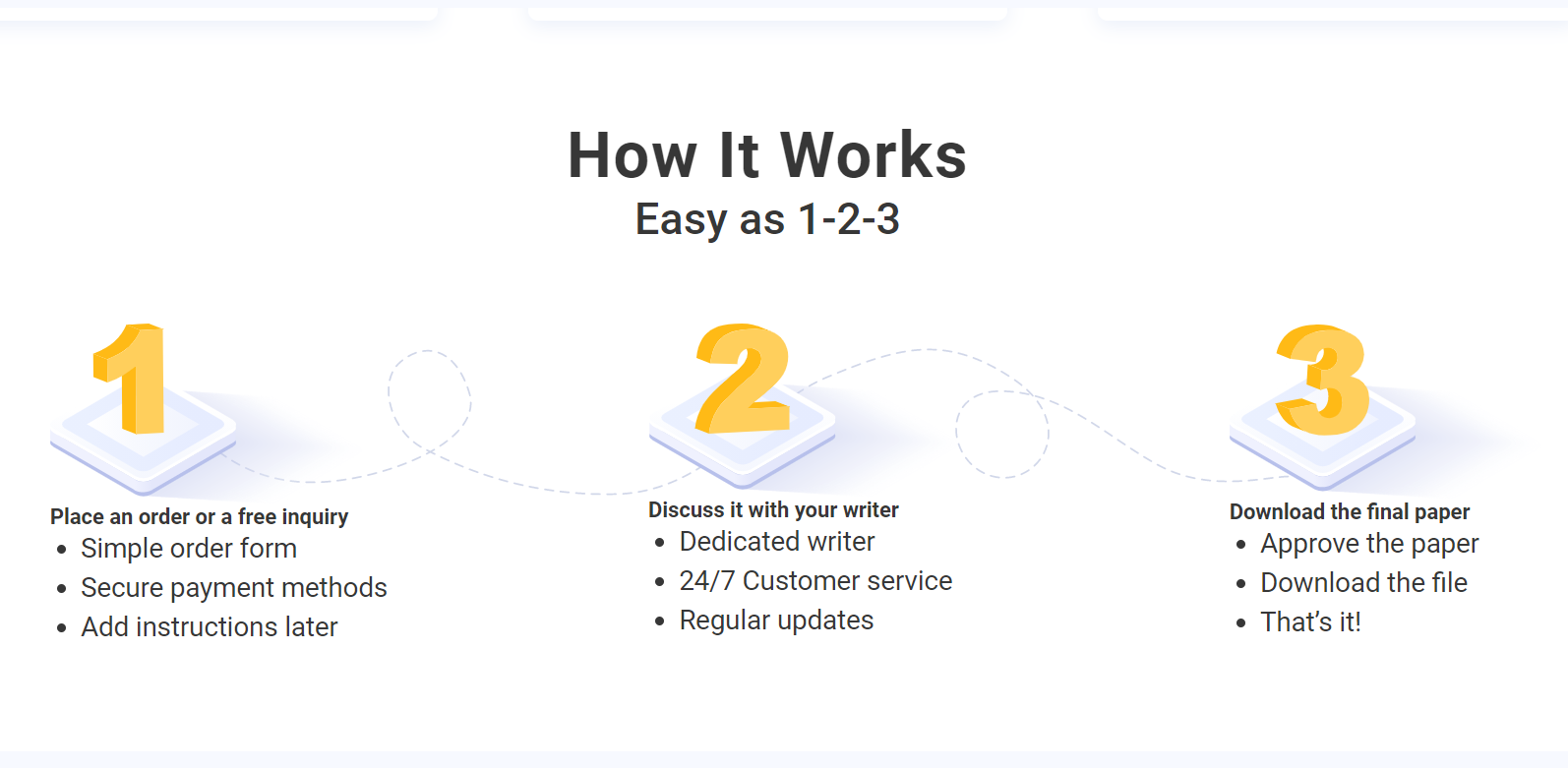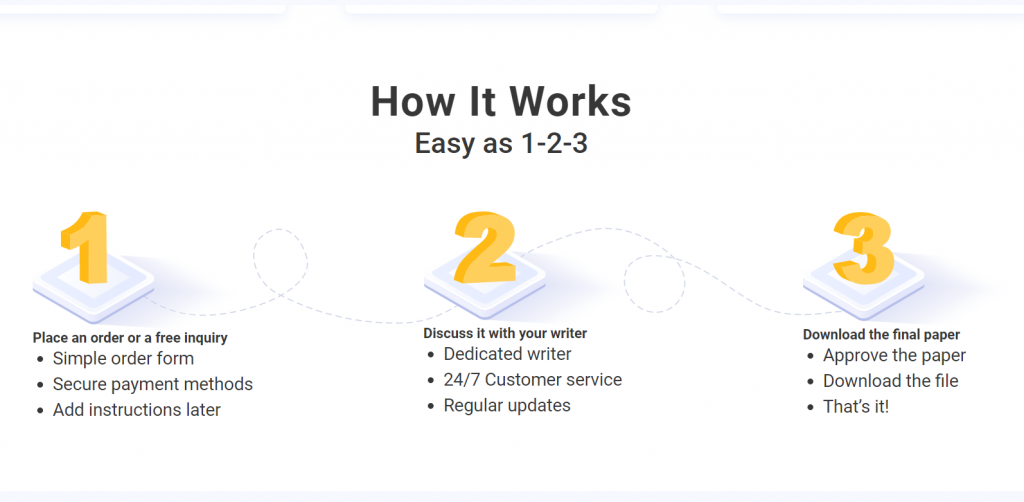 Nursing essay
That was funny that when we tried to place the most urgent order, there were some troubles with the website. What can we say, nice design, but not exactly what a client needs when he or she has only three hours before the deadline.
When the website was okay again (in two hours) we managed to place an order for our most urgent paper. The 2-page nursing essay with a 3-hour deadline cost us $73.50. We received the paper just before the deadline but it didn't cover the topic that well and was full of common phrases that didn't add value to the paper. Fortunately, we understood that we wouldn't receive a brilliant essay as fast as in three hours. On the other hand, maybe it's better to refrain from the deadlines limited by three hours if you know that your writers are not good at providing excellent quality on these terms? It's 3.5/5 for this paper.
99papers is 100% not a scam, it works with some great writers and delivers papers on time. However, the quality of writing can vary depending on the complexity level of assignments and the deadlines you set.
Based on three papers we ordered from the service and our reviews on them, we would give it 4.2/5.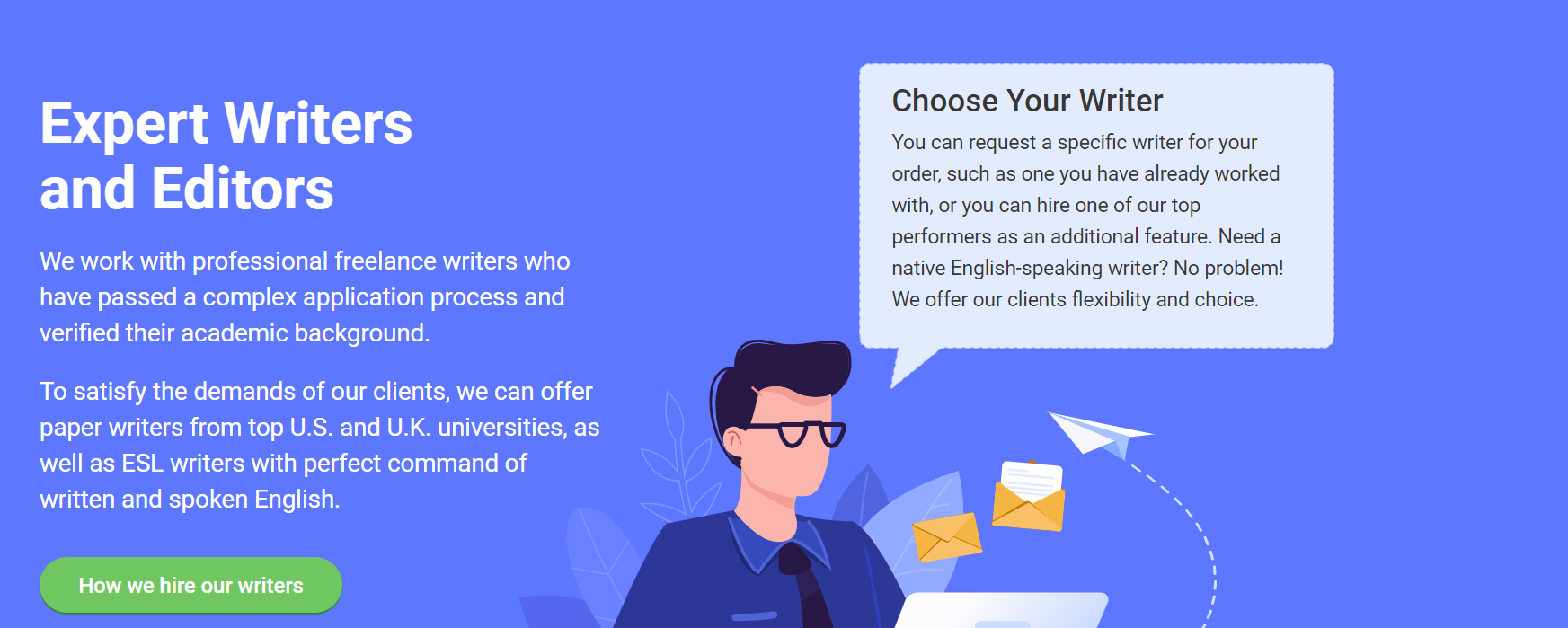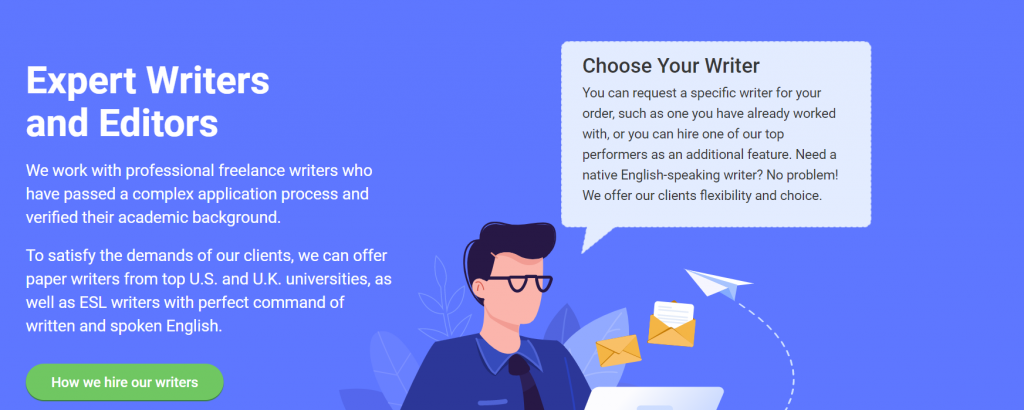 Guarantees and benefits
The website seems to be reliable as it offers some legal guarantees that include the money-back guarantee and free revisions. What we liked a lot was that the website is well protected by trustworthy cybersecurity software that includes McAfee Secure, DMCA, and Comodo Secure. Well done, 99papers! Confidentiality is a must when it comes to custom writing services and academic assistance companies. We also noticed that the company cooperates with international reliable payment systems like Visa and Master Card which is also a great sign of a trustworthy company.
Are you looking for quality performers for your assignments? Check out the best assignment writing service review and choose the best ones.
What we didn't like, though, and what we should include in our 99papers review is that the company doesn't provide an authenticity guarantee and offers a plagiarism report for an additional $9.95. To stay unbiased, though, we have to mention that we have checked all the papers we received from the website ourselves and they contain no more than 10% paraphrasing which indicates that the level of originality in these papers was quite high.
Prices and discounts
The prices are quite affordable and flexible: they start from $9.95 per page and can get up to $54.60 for the graduation-level and extremely urgent piece of writing. The company also offers some discounts for the newcomers and for loyal customers.
All in all, 99papers is a legit website that is worth your attention, especially if you have time for your papers and can set a wide deadline.
Is it legit?
99papers is an essay writing service that promises to deliver high-quality papers, fast and at a reasonable price. Their website looks professional and boasts about numerous native writers from the top US Universities, and about the lovely reviews from their numerous clients. However, if something looks too good to be true it often is; and when it comes to papers, essays and assignments we do not have any time (nor money) to lose!
So, is 99papers a scam or a legit site? We found out so you don't have to!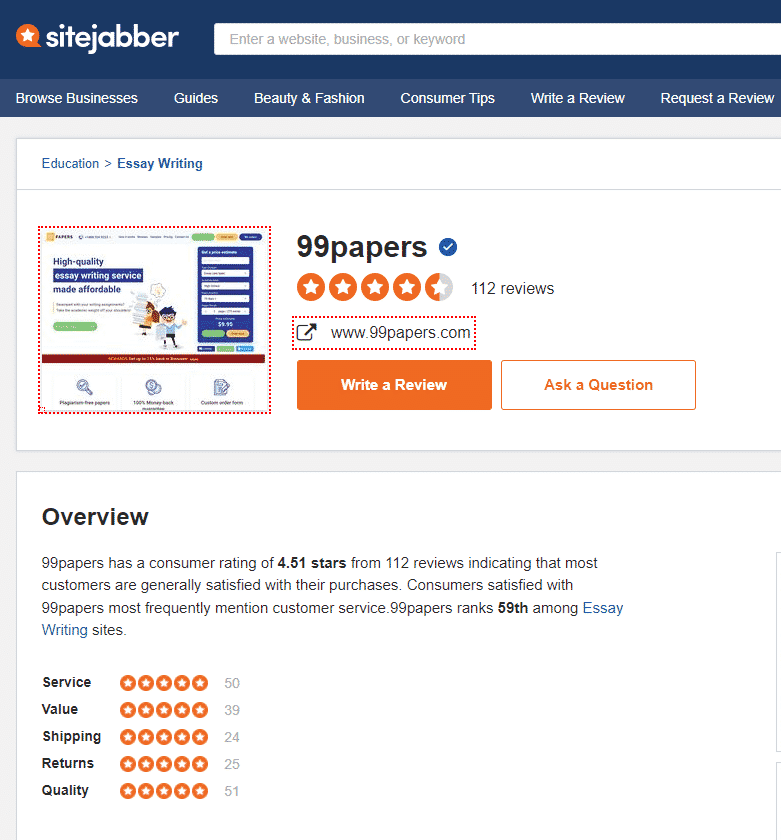 Is 99papers a scam?
If you were wondering if this service is a scam, the answer is no: they are not. We have ordered 3 different essays from this site to test their reliability, safety, and quality and we can promise that 99papers is not a scam: they are a legit, safe site that delivers what they promise!
How good is 99papers?
We ordered 3 different essays from 99papers to test their quality. We set the largest deadline (15 days) and refrained from adding any extras to keep the cost as low as possible. We also ordered papers dealing with different topics, to see if their writers are knowledgeable and do their research.
Their quality is fair: they delivered much faster than the 15 days deadline, and the grammar and orthography of the essays were alright. The papers were OK, but nothing stellar: fair enough for the low price we paid. The papers were well researched, interesting, and easy to read; but lacked depth and weren't as interesting or engaging as we expected.
All in all, 99papers delivers reasonable quality at a good price, but if you are looking for good essays they are not the place to go. There are much better places out there if the quality is what you are looking for.