Cheapwritingservice.com offers you a platform where a student can place a request for academic assignments. The platform has been into this business since 2008 and it's true that they have more than a decade of experience in this underlying field. In these years, they have claimed to work with students of different territories including the US, Australia, and Canada.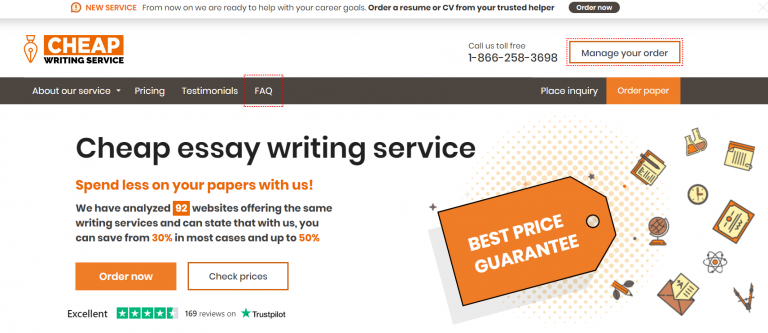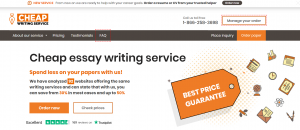 Cheapwritingservice also claims that they have a pool of qualified and talented writers and editors who are dedicatedly available to complete all types of academic assignments. These writers are mostly based on English-speaking native countries like the Canada and the US.
First Impression: Testimonials May Be Fake!
The website of Cheapwritingservice looks fine and easy to navigate. The website has maintained four primary tabs or sections, such as About our service, Pricing, Testimonials, and FAQ. In addition to it, there are two more tabs available, for example, Place inquiry and Order Paper.
The website displays some lucrative offers like Best Price Guarantee and it's explicitly mentioned as you can save at least 30% – 50% by ordering a paper with Cheapwritingservice.com. Speaking of the Testimonials tab, there are plenty of customer reviews posted but there is one peculiar factor about these reviews/feedbacks. On their official site, there aren't any negative reviews. All feedbacks are extremely positive. So, here comes the question of customer trust and transparency. It looks like the platform has purposely posted fake positive testimonials to mislead and persuade the customers to place orders.
Cheap writing service Reviews: Pricing Details
There are various types of pricing options available. For High School orders, the pricing starts with a $9/per page and it has a deadline of 14 days. If you want to improve the deadline i.e. you want to get your paper ready at the earliest, then you'll have to pay $29/page which has a timeline for four hours.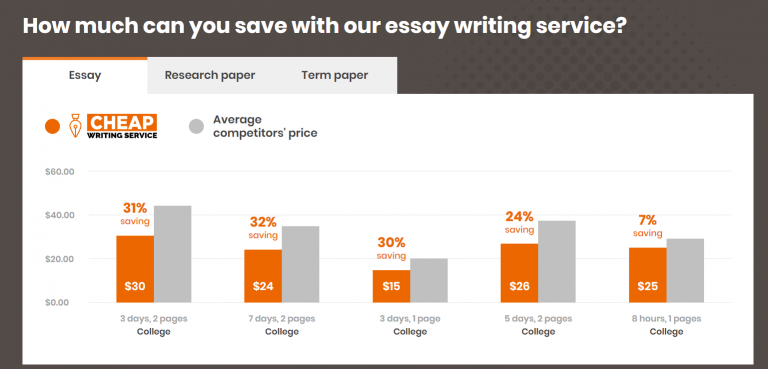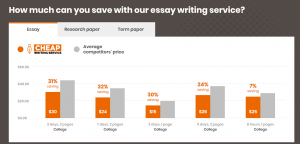 For Undergraduate (1-2 year experience) papers, the pricing starts with $11/page (with 14 days deadline) and the maximum price is $32/page (4 hours timeline). Likewise, the starting price for Undergraduate (3-4 year experience) papers is $15/page and the maximum price is $42/page.
For Graduate papers, the entry-level price is $22/page and the maximum price is $52/page. For PhD orders, the starting price is $27/page and the maximum price is $67/page.
What Services Does Cheapwritingservice.com Offer?
There are different types of essays and academic writing papers that you can order from this site. Here're the types of papers that you can order through this platform…
Essay (any type)
Admission essay
Analysis (any type)
Annotated bibliography
Argumentative essays
Article review
Assignment
Blog post
Book/movie review
Business plan
Capstone project
Case study
College essays
Coursework
Creative writing
Critical thinking
Journal article
Lab report
Literature analysis/review
Memo/letter
Outline
Personal reflection
Poem
Project
Presentation/PPT
Question-answer
Reflective essays
Report
Research paper and proposal
Speech
Summary
Term paper
Thesis
Others
See also: legit essay writing companies.
It's indeed true that the site offers you a diverse range of services to orders. However, the quality of the work is just average. Rest assured that you can't rely on this essay writing platform for great academic papers.
Cheap writing service Review: Free Services and Offers
The platform claims to offer you five free services, such as plagiarism checking option, unlimited revisions, 24/7 customer support (live chat), title and reference pages, and proper formatting (APA, MLA, Chicago, etc).
What We Have Received, Quality of the Paper
We placed an order for PhD article services through Cheapwritingservice.com. It provided us three choice options for writer preference and selection, such as Best available standard writer, Advanced writer, and Top 10 writer.
We availed for the Best available standard writer option as other write preference options were too costly. Similarly, you will have to pay extra fees if you want to hire a native speaker. The timeline was provided for 14 days but the article was delivered on the 16th day. In addition to it, the quality of the article wasn't good enough.
The overall article quality was just ok and average and it didn't fulfill our expectations. Plus, the article even had a few grammatical errors that needed to be corrected. In addition to it, it was pretty clear that the article was completed by a non-native English writer.
Final Verdict for Cheapwritingservice
To summarize, Cheapwritingservice is not worth it for Graduate and PhD level writing. The quality of the service is not up-to-the-mark in those cases. It charges premium fees but the students ultimately get articles full of punctuation and grammatical errors. What's more, the site has a problem with transparency and customer trust.
Well, you may opt for Cheapwritingservice.com services for High School and undergraduate level work. But, for high-quality Graduate and PhD level writing, you should better look for other alternatives.